REST API v2¶
Konfuzio API Video Tutorial¶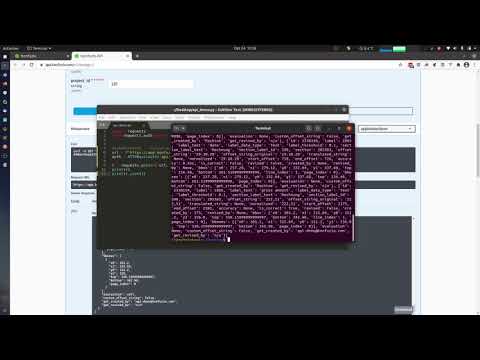 How to make an API Call¶
The API documentation is available at https://app.konfuzio.com/api.
The API supports Password Authentication and Token Authentication. An API Token can be obtained here: https://app.konfuzio.com/v2/swagger/#/token-auth/token_auth_create
"ENDPOINT" needs to be replaced with the respective API endpoint. Username, password, and token are randomized examples.
Using CURL¶
Password authentication:
curl

 

-u

 

[email protected]:9XQw92GZsJB2Ti

  

-X

 

GET

 

"https://app.konfuzio.com/api/ENDPOINT/"



Token authentication:
curl

 

-H

 

"Authorization: Token 9944b09199c62bcf9418ad846dd0e4bbdfc6ee4b"

 

-X

 

GET

 

"https://app.konfuzio.com/api/ENDPOINT/"



Supported OCR languages¶
The default OCR engine for Konfuzio Server supports the following languages:
Afrikaans, Albanian, Asturian, Azerbaijani (Latin), Basque, Belarusian (Cyrillic), Belarusian (Latin), Bislama, Bosnian (Latin), Breton, Bulgarian, Buryat (Cyrillic), Catalan, Cebuano, Chamorro, Chinese Simplified, Chinese Traditional, Cornish, Corsican, Crimean Tatar (Latin), Croatian, Czech, Danish, Dutch, English, Erzya (Cyrillic), Estonian, Faroese, Fijian, Filipino, Finnish, French, Friulian, Gagauz (Latin), Galician, German, Gilbertese, Greenlandic, Haitian Creole, Hani, Hawaiian, Hmong Daw (Latin), Hungarian, Icelandic, Inari Sami, Indonesian, Interlingua, Inuktitut (Latin), Irish, Italian, Japanese, Javanese, K'iche', Kabuverdianu, Kachin (Latin), Kara-Kalpak ( Latin), Kara-Kalpak (Cyrillic), Karachay-Balkar, Kashubian, Kazakh (Cyrillic), Kazakh (Latin), Khasi, Korean, Koryak, Kosraean, Kumyk (Cyrillic), Kurdish (Latin), Kyrgyz (Cyrillic), Lakota, Latin, Lithuanian, Lower Sorbian, Lule Sami, Luxembourgish, Malay (Latin), Maltese, Manx, Maori, Mongolian (Cyrillic), Montenegrin (Cyrillic), Montenegrin (Latin), Neapolitan, Niuean, Nogay, Northern Sami (Latin), Norwegian, Occitan, Ossetic, Polish, Portuguese, Ripuarian, Romanian, Romansh, Russian, Samoan (Latin), Scots, Scottish Gaelic, Serbian (Cyrillic), Serbian (Latin), Skolt Sami, Slovak, Slovenian, Southern Sami, Spanish, Swahili (Latin), Swedish, Tajik (Cyrillic), Tatar (Latin), Tetum, Tongan, Turkish, Turkmen (Latin), Tuvan, Upper Sorbian, Uzbek (Cyrillic), Uzbek (Latin), Volapük, Walser, Welsh, Western Frisian, Yucatec Maya, Zhuang, Zulu.
The detection of handwritten text is supported for the following languages:
English, Chinese Simplified, French, German, Italian, Portuguese, Spanish.
The availability of OCR languages depends on the selected OCR engine and might differ across configurations (e.g. on-premise installation).
Supported File Types¶
Konfuzio supports various file types:
PDFs¶
Konfuzio supports PDF/A-1a, PDF/A-1b, PDF/A-2a, PDF/A-2b, PDF/A-3a, PDF/A-3b, PDF/X-1a, PDF/1.7, PDF/2.0. An attempt will be made to repair corrupted PDFs. Konfuzio does not support AcroForms and AEM (Adobe Experience Manager) form content.
Images¶
Konfuzio supports JPEG and PNG (including support for alpha channel). Support for TIFF is experimental.
Office documents¶
Konfuzio offers limited support for common office documents like Microsoft® Word (.doc, .docx), Excel (.xls, .xlsx), PowerPoint (.ppt, .pptx) and Publisher as well as the Open Document Format (ODF). Uploaded office documents are converted to PDFs by Konfuzio. Libre Office is used for the PDF conversion. The layout of the converted office document may differ from the original. Office files can not be edited after they have been uploaded.
Supported Data Normalization¶
Our Konfuzio application can normalize various data formats for different data types used in the annotations of the documents within your project. It translates different formats of numbers, percentages, date, and boolean values into a unique and machine-readable format. Down below, you find an overview of the normalizations of the different data types with specific examples.
Note:
It is necessary to train a new AI after a change in the data type of a label.
Support¶
To qualify for minimum response times according to your SLA, you must report the issue using the email support@konfuzio.com.